History & Experience
Wendy Hahl, the owner/operator of Exclusive Imprint has been in the imprinting industry since 1999 via Shirt Design, which was the original imprinting business in St. Catharines/Niagara. During this time, she was also a screen printer, and learned all aspects of screen printing. In 2010, with the support of her husband, she decided to purchase the business "Shirt Design" and changed the name to Exclusive Imprint
Exclusive Imprint had been a home based business since she purchased it in 2010. In late 2015, she decided that Exclusive Imprint had outgrown her home and it was time to take the next step – which was to turn it into a retail location. As of January 2016, Exclusive Imprint was located at a retail location at 175 1/2 Queenston Street in St. Catharines, Ontario. On April 2018, Exclusive Imprint grew once again and moved to 108 Hartzel Road.
In February 2022 Exclusive Imprint suffered a devastating fire at the Hartzel Rd. location.  Everything was lost but Wendy was bound and determined to re-open as soon as possible.  In less than month after the fire Exclusive Imprint re-opened 514 Queenston St. Unit 5.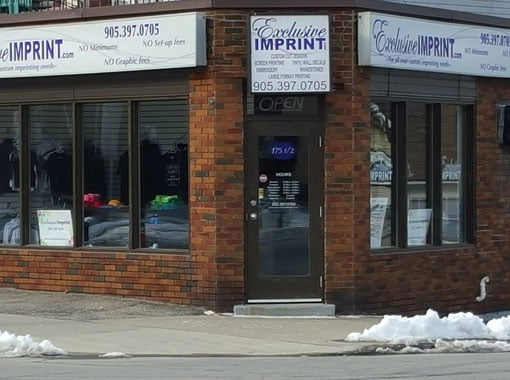 Exclusive Imprint specializes in custom/personalized imprinting of apparel & promotional items.
I can help you CREATE or DESIGN a logo or favourite saying for your business, team, organization, church, school, band, reunion, birthday, anniversary, stag and doe, special occasion and more. The design can get imprinted on apparel or promotional products.
If there is a certain price range you are looking to spend, let me know and I can work with you to keep the project on budget and make suggestions to get the most from it.
Exclusive Imprint is also a Designated Board Supplier (DBS) for the Niagara Catholic District School Board (NCDSB). My goal is to offer an additional option for parents and guardians to purchase navy and white dress code items at reasonable prices.